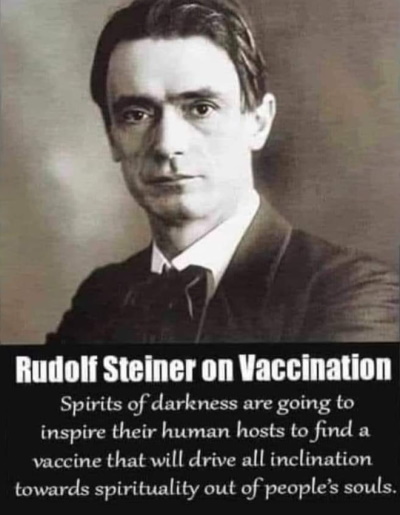 The Vax is Not a Vax
I'm going to put this up here today because I'm getting a tonne of messages and questions in regards to this subject. People are asking about the COVID vaccination. Is it safe? Will it work? What's in it? Those questions are very relevant, especially when one realises that The Vax is Not a Vax at all, but rather, an experimental mRNA solution. Read on to find out more.
When you share articles like this, or write articles about the jab, use as loose a language as you can so as to not trip the censorship brigade. And censor you they will, because they don't want humanity to know the truth.
Dark Magick Ritual
This virus is 100% a global dark magick ritual. 100%. It has been planned and plotted out for a very long time.
This ritual has several goals. However, there are a few primary goals that are easy to decipher if you have your third eye open and your intuition locked in. And if you are paying attention to the stages and easily spotted manipulative tactics, which the folks behind this use again and again.
Total Control
The primary goal is total control, subservience and surveillance. The media hype is to frighten you into acquiescing all of your basic human rights. To allow others to control your behaviors. Your movements. Your freedom. To make you so frightened that human interaction becomes a dreaded thing. To hug, or shake hands. To gather. Human touch and human interaction will be seen as a no-no.
Secondarily but equally important to them is the shot. This actually coincides with goal number one, but with the added benefit that it alters a human being's genetic code.
Not a Vax
The COVID vaccination is NOT a v a x. Not by the very definition of its ingredients, nor by what it is designed to do. It is a highly experimental, gene therapy treatment. The SYNTHETIC mRNA is what is referred to as a 'spike' protein. It is sheathed in a liposomic blanket to allow it to escape early detection by our immune system and enter our cells. Once inside, it exits the liposome, punches out a section of our genetic code, then replaces it with this synthetic (non biological) sequence. This particular synthetic code is targeting chromosome 8 on the DNA strand. This chromosomes coding is responsible for:
* Empathy
* Intelligence
* Psychic abilities / soul connection
* Fertility
This is not by any means an accident. It is highly deliberate and calculated.
Then there is also the addition of DARPAs "hydrogel" which is laden with micronised nanobots, infiltrating the human biome with A.I. nanotech. Creating the "Transhuman" or Borg race.
Our DNA will play a huge role in our upcoming evolution and ascension.
Purposeful Intention
The Elite absolutely know what they are doing. They know about how the mRNA will affect us and are in desperation mode to shut down our spiritual abilities. This is a two-fold process of shutting off the DNA activations and enhancements that are being downloaded to us, and also reducing the population to a fraction of its current numbers. Why? Because they are aware that as a COLLECTIVE consciousness we are infinitely powerful, so the more of us who are completely actualised the greater the threat we are to creating a world beyond their control.
Depopulation Agenda
So the depopulation agenda is to lessen the numbers of ascending humans.
This will occur in many. Not initially (although there has already been many deaths), but over a period of months and years. What will happen is that as the synthetic proteins replicate and enter more and more cells, causing the immune system to sense a foreign, non biological invader, it will turn upon the cells in an attempt to eradicate and rid this invasion. This will create an auto immune disease which will occur in a wide-spread area across the world. One that is similar to AIDS, but on a global scale.
I understand that this post may upset many. That is not my intention.
Do Your Own Research
The reason why I am posting this is in the hopes that if you or a loved one is on the fence, that you please do the research on your own, independent of mainstream ANYTHING, as they are all entirely corrupted and deceptive. As they are all controlled by the exact same individuals who are behind this global war upon consciousness and the direction of the soul of humanity.
Don't take my word for it. Just look deeply into the ingredients for yourself, and even the track records of these companies behind it. They are EXEMPT from prosecution from the poisons they peddle. That alone should send up red flags.
Now, with all of this said, there may be a possible silver lining for those who have taken this cliff dive of a risk.
Silver Lining
There is talk of long held back healing technologies, ie, Med Beds, which will be able to return DNA back to normal and incapacitate the AI nanotech. This is, of course, when these technologies are finally released en masse to the public at large. In closing, we are in the battle finale of a VERY long, spiritual / Interdimensional war. This battle is for the direction of humanity's souls.
Do all that you can to educate yourself, and protect your mind, your body, your soul.
Follow your gut instincts and intuition. Be highly discerning. Stay out of fear as it condenses your consciousness and your ability to think and make decisions with the highest intelligence and self preservation.
Thanks for reading,
Psychic Madeline Rose
@}-;-'-
.
Here's a site where you'll find my writings.
My novel, The Bravehearts of Belgrave High is now published. I have completed the first in a series of novels that I wrote for teens. It is the courageous story of a young girl growing up in a home filled with domestic violence. She also has to endure a schoolyard and neighbourhood full of bullies. We read how she maneuvres her way through such a difficult situation. Plus, how she grows because of it, among other themes in the novel.
The desired outcome for young readers is that they will be inspired to treasure their unique differences. If they don't fit in with the system or with those around them, then they should realise that it's quite okay not to fit in.
My first novel was written to help raise funds for the private foundation that I established, which might later become a charity. Click here if you'd like to be taken to the site where you can purchase this novel. If you cannot see the site, use a browser other than Chrome.
-'-;-{@
If you'd like to meet someone special for a long term relationship, there's a new Australian match-making service starting very shortly. Keep your eye out for when it is ready to launch. Here's the link: LoveHonourandRespect.Me
@}-;-'-