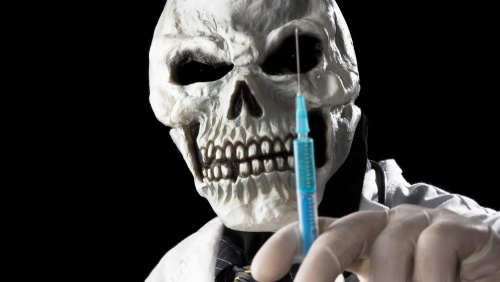 Readings for the Jabbed
It is with solemnity that I write this article. Since March, whenever I have done face-to-face Readings for the Jabbed, the Death card has come up as the outcome of the reading. Clients who come to see me for readings want to see the cards on the table. When I do face-to-face readings, I often use a mixture of the cards and my psychic abilities. When I do phone readings, I don't use the cards unless asked – all I do is shut my eyes and See. I am happy to do readings for people on the phone, but I no longer want to do face-to-face Readings for the Jabbed. I simply cannot tolerate the number of people having readings where the Death card falls in their spread.
Card Readings
The reason why I use the cards in face-to-face readings is so that the client can witness what cards fall for them. That's why they come to see me rather than have a telephone reading. They want to see the lay of the cards. During their reading, they shuffle the cards, so the lay of the cards can only be due to how they shuffled. I usually don't go looking to see if someone is going to die when I use my clairvoyance. I will only do that if they ask me to. The tarot spread provides information that I don't go looking for and proves that what I would have Seen clairvoyantly had I looked is the truth of the situation anyway.
Death Card
I am always dismayed whenever the Death card falls. It merely confirms what the articles and links on my site are all saying will happen to those who have had the COVID shot. It confirms for the client that their life is now prematurely shortened because they didn't question the mainstream narrative. Perhaps they were forced into getting the shot because of their job. However, they could always have resigned. They didn't have to continue working for their employer. I know people who have packed up and left their homes when lockdowns threatened to harm their families. It is always our option to vote with our feet. We do not have to stay. There is always another way.
Suicide Shot
I truly dislike having to explain why the Death card has fallen as the outcome card. I don't want to have to tell people that they now have a limited life expectancy. I won't call what they've had a vaccination, because it isn't a vaccination – it's a gene-altering, life-ending bioweapon. Basically it's a suicide shot.
Three More Years
I am so averse to doing Readings for the Jabbed now that I always ask the client beforehand whether or not they have already been jabbed. If they have I tell them that I can only do a phone reading for them in order to avoid that they see what cards fall for them. I just do not want to have to tell them that their remaining time left is best spent writing out their Will and telling the people in their lives how much they love them. Unfortunately, that's all that jabbed people can look forward to. They have at the maximum about three more years of life left, and this is how they need to spend their time if they want to make it mean something.
Fear and Disbelief
If you are reading this article and you have had the jab, please realise that if you book a reading with me the Death card will always show up. It's uncomfortable for me when I am forced to See what is coming for you. When you see the Death card fall, you're going to get worried by it, and I'll feel all of the emotions that you're feeling. I sense every emotion that you feel while you're having your reading. I also know when you feel disbelief.
One lady had a reading with me and I told her what was going to happen if she went and got the Covid jab. I knew that she didn't believe me so I said to her, "You don't believe me, do you?" She said no, she didn't, so I told her to ask the cards what would happen to her if she got the jab. Sure enough, the Death card fell as the outcome card in the Celtic Cross spread. I didn't shuffle. She did. What are the chances of that happening if it isn't the truth of the situation? There's no way around it… that's your fate if you get jabbed.
Deceived
If you are reading this and have had the shot, I deeply regret that you weren't told prior to getting it what would happen to you if you did. There's an agenda to cull the world population and the first stage of achieving the cull was to frighten you into taking what you think is a vaccine by hyping up the virus. Go watch the video titled Plandemic and you'll learn what was done to make you want to take the jab.
Talk With Him
If you haven't already, please pray to Jesus and ask him to help you through your last couple of years. Talk with Him regularly and ask Him to guide you on what to do next. Ask for His help to make you fearless when you cross the Rainbow Bridge. Ask for His love and acceptance, and to forgive you for anything that you know you did that was wrong. Also, forgive yourself for the mistakes that you have made throughout your life.
Jesus is the only one who can help you now, so if you develop a relationship with Him, he may choose to create a miracle in your life. You may just make it through unscathed but it will only happen with His help and Grace. I am not saying that you will avoid the fate of those who take the jab, but the only chance you have is if you rely on Him to help.
Skip Church
You don't need a church to talk to Jesus. Just bring up the image of Him in your mind and start talking to Him. He will hear you. He will hear your sincere pleas to Him. You need to have a relationship with Him so that your passing will be easier for you. It's time. Just do it. Give your heart to Him.
Condolences
I'm so sorry that you were lied to. I wish I could have been there to inform you of the truth before all of this happened to you. My concern is, would you have listened to me anyway when I told you? Many didn't, even though I tried. Now my only prayer for you is that you get to spend your remaining time in peace, love and harmony with those around you. The people who are behind what is going on in the world at the moment planned these events at least forty years ahead of time. They are as guilty as hell of what they are doing, and they will have to answer for their crimes in the end. Nuremburg 2 is being planned for them right now as I write.

Watch the video below and you'll see what I mean about how this has been planned for years.
Thanks for reading
Psychic Madeline Rose
.
@}-;-'–
.
Here's a site where you'll find my writings.
My novel, The Bravehearts of Belgrave High, is now published. I have completed the first in a series of novels that I wrote for teens. It is the courageous story of a young girl growing up in a home filled with domestic violence. She also has to endure a schoolyard and neighbourhood full of bullies. We read how she maneuvres her way through such a difficult situation. Plus, how she grows because of it, among other themes in the novel.
The desired outcome of reading this novel for young readers is that they will be inspired to treasure their unique differences. If they don't fit in with the system or with those around them, then they should realise that it's quite okay not to fit in.
My first novel was written to help raise funds for the private foundation that I established. My foundation might later become a charity. Click here if you'd like to be taken to the site where you can purchase this novel. If you cannot see the site, use a browser other than Chrome.
-'-;-{@
Would you like to meet someone special for a long term relationship? There's a new Australian match-making service starting very shortly. Keep your eye out for when it is ready to launch. Here's the link: LoveHonourandRespect.Me
@}-;-'-