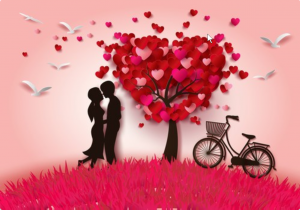 Manifest a Soulmate
Most of my callers are seeking to Manifest a Soulmate. It's important to know that everyone has a soulmate – in fact, we often have more than one. The trick to happiness lies in finding the right one for you though. You should never compromise on having what you want. If you want to learn what steps to take to Manifest a Soulmate, please read on.
A Moment, a Year, or a Lifetime?
Some people who come into our lives are meant to be there briefly, because they have a message to give us. Others are meant to stay for a while because we are going to learn something very important from our interactions with them. Some are meant to stay for a lifetime and be friends, partners, family members, or companions. The one who most people hope or long to find is their long-term permanent partner with whom they can grow and develop the most.
Gain Understanding
Throughout this series of seven articles, you will learn what a soulmate is, how they act and the limiting beliefs that might be getting in the way of you finding yours. You will gain the information needed to understand the trick to making it all work. Then, it is important to KNOW that you can indeed manifest yours. Without knowing that you will, your ability to make it happen isn't strong. Knowing is an important part of having things actually happen.
Practice the Principles
By practicing what you learn in these articles, you'll then get into alignment with yourself and begin to realise your own self-worth. The articles will guide you through the steps to know exactly what you want, but then you have to believe that it's possible. Learn what to do to put these plans into action, then actually do it. Then live in your happiness and practice gratitude.
Start the series by reading Step One with a loving heart and an open mind.
You can find further articles about relationships here for your reading pleasure.
Thanks for reading,
Psychic Madeline Rose
.
@}-;-'-
To read more articles that will help you to develop your skills at taking part in a relationship, please click here. The link leads to the blog for the foundation that I have begun which helps women to leave violent relationships.
You'll find articles there that will teach you how to discern the right partner for you. Also how to maintain the relationship, and how to leave should he or she start treating you badly.